July 13, 2012
Well the summer is flying by as usual. Been quite busy, one circle tour. Numerous day tours and quite a few with visitors arriving on cruise ships. Off the the annual Snorri Tour tomorrow and them directly from there on holidays. The weather has been unbelievable here since early June. We actually need rain as much of what should be green is now brown. Hopefully get a little more posted on here soon.
June 6, 2012
It has been awhile since I have updated this, been really busy and having a great time. I have started touring with friends and it looks like it is going to be a busy summer. I had a great time in France, I really miss it.
First circle tour on Saturday, hope the weather holds out.
January 20,2012
Well three weeks into 2012 and I am finally writing something here. Had a great trip to Copenhagen in December. It was cold there but still great place to get into the Christmas Spirit. Tivoli was awesome and it was also great to just wander around town. I did not buy anything, everything was kind of expensive. Christmas and New Years was kind of laid back. Have a family that I did a few day tours with and was able to just relax as well. Another birthday came and went, but my mind is mainly on France. 3 more weeks and then I am off. Snow has been on the ground here in Reykjavik since what early December. It has never been like this since I moved here over 10 years ago. Oh well can't complain, at least it is warmer here than in Manitoba.
November 23, 2011
Happy Birthday Mom, I hope you have a fantastic day. Boy are the days getting short now. The weather is horrible. Yesterday there was a think layer of ice on the cars. Today is is raining and blowing like crazy. Not much else to write about. I was at Thorunn┤s 50th on Saturday. I was in Tour guide school with her a few years ago and it was great to join in on the celebration. This week, I have events to attend every night I think. I still get in a swim now and then so that keeps me out of trouble.
November 15, 2011
Where has the fall gone. Well it is still warm like summer but the days sure are getting short. It has been kind of crazy here in the school and though guiding and driving has slowed down I sure was bust in Sept and October. Had some very nice people from the East Coast of Canada visit and I had a great time exploring with them. Then in the middle of October I went with 64 fellow staff from MH to Toronto on a school visits tour. We had a great time and though I did not see much family I did see many friends and it was just nice to be on Canadian soil if only for a few days. It was a little work for me but I did stay an extra day so I did get one day off to rest before returning to Iceland. I added photos from the tour to Flickr so anyone can go there and see what we were up to.
August 26, 2011
Where did the summer go. Fall is in the air, it is actually quite chilly in the mornings now. I have been going steady since May, Had a few days off in June and snuck off to Helsinki and Tallinn. They are both great cities, I especially liked Tallinn. Smaller and ancient, lots of things to see and do. A few tours around Iceland. An Arnason family tour, 59 people from the age of 9 months to 60+. It was great having them. Also Vigfussons from Arborg had a tour and I spent some of the time with them. The Snorris were also a great group as usual. Then I headed home to Manitoba and helped Jonas Thor with a group there for one week. Back to Iceland and straight back to work at the school. The last 3 weeks have blown by so fast I am still in a daze. Oh well, Hofsos this weekend, so I can relax a little there. Have to find sometime to add some pictures to Flickr.
May 19, 2011
OK I am dreadful at writing updates. That does not mean that I am not thinking I must write something, or that I do not have anything to write about. School is winding up for another term Exams finished last week, a few extra ones this week. The weather was great on the weekend but now there was snow in the north of Iceland the last couple days. BRRR.
I had a great trip to France and England at Easter. Everything there was green and looked like summer. It was not hot but very comfortable. I really liked Lyon, it is a very beautiful city and just nice and relaxing. Some tourists but not the mass that converge on places like Paris. I also visited Oxford. It was nice too but a few too many people for me.
Done a few days trips and the weather has been fine.
March 10, 2011
Well winter has arrived again. Lots of snow and cold. It is not just cold outside but I also have a cold. My 4x4 has a hard time starting as well. It must have a cold too. I can not complain too much. Otherwise I am keeping out of trouble. Going to do some exploring with Karen and her friends this weekend. Next couple weekends I will be quite busy.
March 1, 2011
Where did February go? Short month but there was lots to do. I headed out to Munich in the middle of the month. It was great just wandering the streets and not doing much of anything. Did do a day trip, the Castle tour. Worked lots as well. There is always lots of computers to set up, redo and play with. Also did a little touring, hosted a cousin from Seattle and a few other people during the month. The days are getting much longer so that is a plus.
January 17, 2011
Well there is lots to report about. The trip to Toronto and Cuba was fantastic. As usual I was very busy, showing the family around. I tired them out and they took turns with me. Even before Cuba I made a brief stopover in Toronto. Got in really late, there was massive delays in Boston, so needless to say I did not sleep much the first night. Did a little shopping and had a very nice visit with my host and cousin Gail. Then with having to get up at the crack of dawn I did not sleep much the second night either. Jumped in a cab to the airport and off to Cuba. Awesome lounge in Toronto, great breakfast and very nice relaxing before the flight.
A little wait for my ride at the Santa Clara airport but nothing much, a couple beers were in order. Then off to Playa Caibarien, Villa Clara. Hotel Islazul Brisas Del Mar is very much a Cuban Hotel. It was fine, pretty plain but clean and quiet. Then Remedios for their carnival. Hours of home made fireworks, it was crazy. Lots of people and quite the spectacle. Christmas day went to visit Cindy G at Varadero. That was quite the resort. Then off to Cienfuegos finally.
Boxing day I headed to Rancho Luna, and Arimao. Visited friends and family and prepared for the family on the 27th. Drove to Santa Clara to meet the plane. It was on time and they were pretty quick through customs. The bus was late however. I took Mom and headed for Rancho Luna. I guess the bus had some problems along the way but the rest of the group finally made it. It was great having the family around, the trip to Havana was very good except for the long wait to check in at Hotel Nacional. The extra tour the next day was nice as well. Everyone was happy to be back at the hotel though to relax a little. I went with Dean and Wendy the next day to Trinidad. I think they enjoyed it. We got back in time to rest a little before New Years Eve Celebrations began. Nice food, nice group, all very Cuban but that made it special.
New Years day we headed for El Nicho and had a blast there before heading to Yoansy┤s family for another feast.
I had to take off quite early on Jan 2 to catch my flight in Varadero. Made good time and did a little last minute shopping at the airport. Good flight to Toronto and checked in to my hotel which was only a couple minute walk from the airport. Went to Gail's the next morning for brunch and pick up a few things I had left there on my way to Cuba.
Great flight back, kind of long with the connection in Boston but I am used to this.
Straight back to work and busy as usual. Reached a milestone on Saturday, yep the BIG 50. As I am hoping to have a little get together sometime it was a pretty laid back day. Now I am for sure over the hill.
December 21, 2010
Well all packed for the next adventure. Off to Toronto and then Cuba. Will be hosting the family this time, well for New Years in Cuba. Graduation here at MH today so things are all prepared. Weather continues to mystify me but it was quite nippy this morning.
December 15, 2010
10 days until Christmas. One week until I head to Toronto and then Cuba. Exams are over now so things will be quieting down around here. Everyone is getting in the Christmas spirit. The weather has been great. Horrible weather in Europe and North America calm and mild weather here. So it is not really Christmas weather, no snow in Reykjavik but we will not complain.
December 4, 2010
Christmas is around the corner and still so much to do. Classes are finished and now exams are in full swing. I have been helping with them but keep out of trouble with other things in school also. Preparations for my trip to Cuba are being completed. It will be great hosting the family there for New Years celebrations. Concert season is here. Attended a Hamrahlidarkor Concert a few days ago. Another concert at Neskirkja tomorrow afternoon, a Symphony Concert next weekend. So much to do, so little time. Off shopping this afternoon. Lets get into the Christmas Spirit!!
November 12, 2010
Winter has arrived, we have had snow cover but it is gone here in the south anyways. Lots of traffic problems in the north though. Only a few weeks of school left, then exams. Still organizing my visit to Cuba. Really looking forward to it. It will be nice to have a few days in Canada as well. Was Aldis' birthday yesterday, I miss calling her and chatting with her.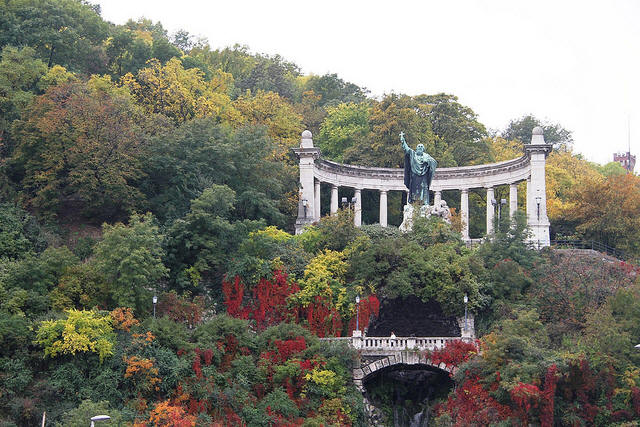 Budapest, Hungary 2010
October 27, 2010
Well another month has flown by. I had a great time in Budapest. A great city, cheaper than most European destinations and still lots to see and very beautiful architecture. It will be awhile before I get my pictures on flickr but keep checking. http://www.flickr.com/photos/78627699@N00/sets/72157625092269859/
On Saturday I attended a graduation party for my friend Tamila. She graduated with a Masters Degree from Hßskˇla ═slands. It was a great time, I was supposed to attend another party after that but got lazy and went home instead.
October 11, 2010
Well one more annual event done. Canadian Thanksgiving was held yesterday and without trying to brag too much I think it went off very well. I ate too much and I do not think I was the only one. Karen helped a lot and Ingvar was fantastic in the kitchen. Here are a few photos of the event.
http://www.flickr.com/photos/78627699@N00/sets/72157625014612195/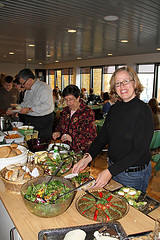 Now I have to get ready for my next journey. I am heading to Budapest on Friday. Well London on Thursday then Budapest. A little side tour from Budapest as well. The destination is a little secret as of yet. Should be an interesting photo op. The weather has been great. Not quite the higher 20s like in Manitoba but still very decent weather here.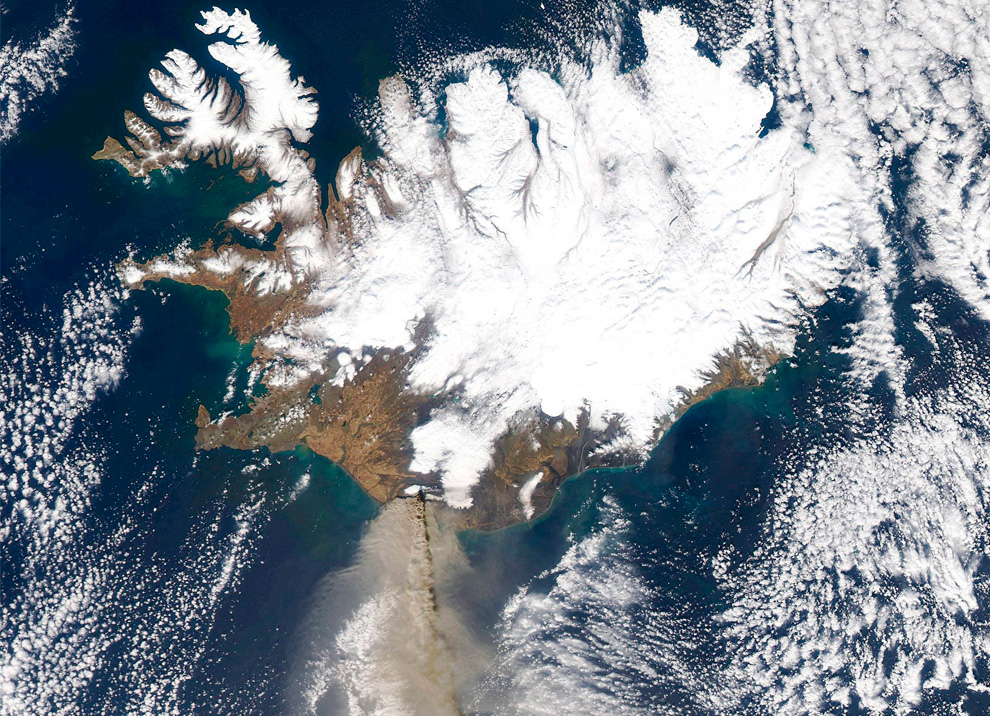 This picture says it all. Only a little part of Iceland is affected by the volcano.
(REUTERS/NERC Satellite Receiving Station, Dundee University, Scotland)
Other photo links:
www.boston.com - http://www.boston.com/bigpicture/2010/04/more_from_eyjafjallajokull.html
Sept 16. 2010
Well had to scrape the frost off my windshield this morning. I guess summer is over. It is a beautiful day none the less. Bright and sunny. A little chilly but manageable. 200 students and 7 or so teachers went on a field trip today. I wish I could have gone with them. Oh well maybe next year.
Sept 9, 2010
Well the excitement continues. Running around like crazy. School is well on its way. Most of the students new and old are getting settled. Freshie day this week. Still been kind of busy with the driving, mainly shuttles and stuff so not very exciting.
August 24, 2010
Where did the summer go? Wow I must be getting old. It has been a busy one and went by so fast it is kind of a blur. Did some very exciting things, like stayed in a tent on Flatey. Golfing in Hecla. Lots of hot geothermal pools. Had time to spend with the family. The list goes on and on.
June 22, 2010
Well last week was busy, this week quiet and next week the family arrives. I guess I better enjoy the quiet time now, Wrapping things up at the school. Not sure what else I should write.
June 16, 2010
Well the volcano seems to have stopped. Still a good amount of steam rising but no ash. Finally getting a little busier with driving and guiding. National Day tomorrow so day off. Doing a tour with a friend from Gimli and his daughter. The summer will not be very busy but that is nice too sometimes.
May 25, 2010
Well the touring season has begun for me anyways. May 14 to 16th went on a Spring Tour with the Tourist guide Assoc. We explored SnŠfellsnes thoroughly and spent a full day with a volcano expert, Haraldur Sigur­sson. This past weekend I did a tour of the Westfjords, with a group of Icelandic young people. Great weather and scenery. It is always great to explore that area. No the challenge of getting back to my regular work.
May 8, 2010
Today I took my new (older) 4X4 for a ride to the south coast. Pretty spectacular sights. I did not go that close to the eruption but I am still have ash in my hair and other places.
May 4, 2010
Well classes are over for another term. Exams started this week and will go on for the next 2 weeks. The volcano continues. I guess it will go on for sometime yet. I attended the Icelandic National League of North America annual meeting which was held in Toronto this year. I took some photos there and you can check them out at http://www.flickr.com/photos/78627699@N00/sets/72157623824648271/
I had a great time and it was great connecting with all the people from all over North America.
April 15, 2010
Like usual I have been kind of slow at updating this page. I have been keeping really busy and the tourist season is shaping up to be a busy one. Second volcano has started and pretty spectacular sights. Airports in Europe are shut down because of the ash. Highway # 1 is closed and who knows when it will be open again?
Ůorvaldseyri, South Iceland
<![if !vml]>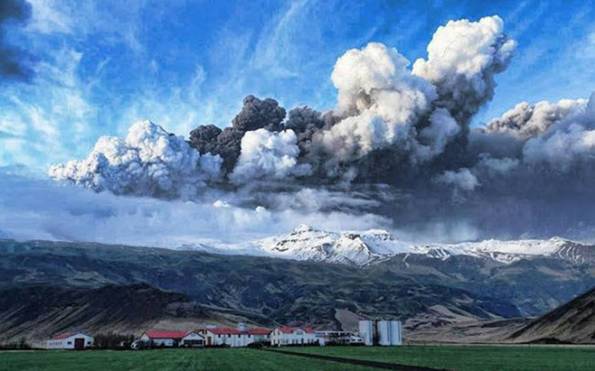 <![endif]>
February 17, 2010
Well winter seems to be over already. The days are getting longer and trees are budding. I spent the first weekend of Feb. in England with Gu­mundur and Ingibj÷rg. We had a nice break in Canterbury, Kent. Things are still kind of crazy at work, lots to do and not enough hours in the day. Still keeping my options open for the summer. Have to see what I can do. Getting a few visitors from North America but does not seem to be as many as last year. Time will tell.
Added a few more photos to my flickr page.
http://www.flickr.com/photos/78627699@N00/ Please check it out.
January 30, 2010
Well I guess Spring is here, or at least the geese are here already. Yes it is hard to believe but still January and the weather is like Spring. I keep bugging people in both North America and Europe where the weather has been wintery that they have to come to Iceland for good weather. Things are going great otherwise, busy as usual. Computers are taking over my life...... Heading to London next weekend for a short break. Going to spend a few nights in Canterbury, relax and rest in between pub visits, hehe. Added a few more photos to my flickr page.
http://www.flickr.com/photos/78627699@N00/ Please check it out.
New York January 2010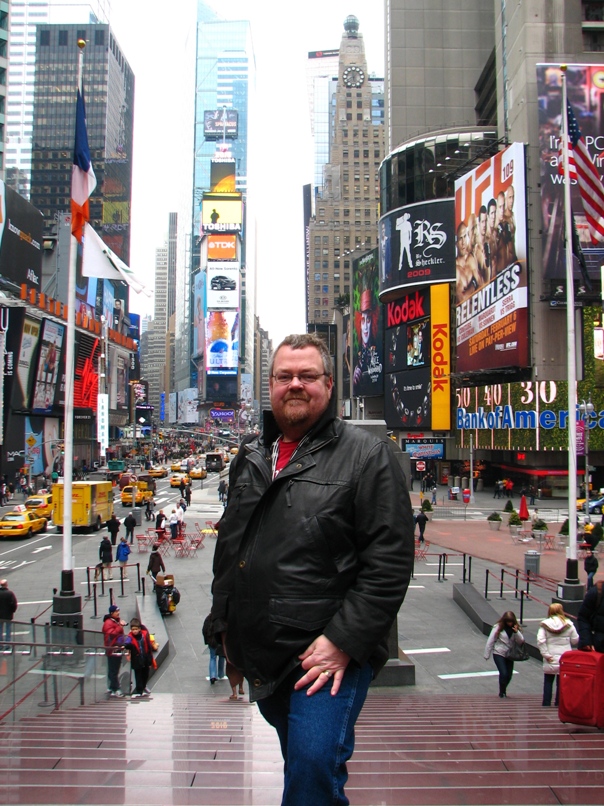 Had a great time in New York. Stayed at a Hotel right at Times Square. 40th floor and decent views. Went up the Empire State Building and walked around Ground Zero. Did not make it out to Ellis Island or the Statue of Liberty this time. The lines were very long and we did not have the time.
Seasonĺs Greetings (HßtÝ­arˇskir) 2009
<![if !vml]>
<![endif]>
December 2009
Dear friends,
Thank you all for a great year. Meeting new people, touring and visiting with old friends is great.
I look forward to next year and to see you again then.
I hope everyone has a great Festive Season and a prosperous New Year.
There is not yet much set for next summer but I hope to start organizing my time soon and I hope I can count on your continued support.
<![if !vml]>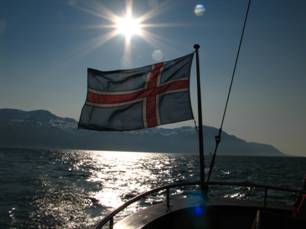 <![endif]>
I have started loading photos on to Flickr. Please check it out. http://www.flickr.com/photos/78627699@N00/
November 20, 2009
Well like always, I have been a little slow at updating this page. I have a had a few interesting tours and done a few interesting things in the past couple weeks besides working like a mad man. I had a photographer/artist named Kim visit from Seattle. I took her around Reykjavik and showed her a few interesting things in the area. The days are getting shorter now so time for touring and taking pictures is limited. No foreign countries this month, it seems like I am missing something. Only one week of classes left then exams, I am sure happy I do not have any exams to take or any assignments to finish.
November 2, 2009
Well another lazy weekend. There was a couple things I forgot to mention. During my travels over the last couple weeks I think I set a few records. I was in 5 countries in 4 days. On returning to Iceland from Amsterdam, I received 3 stamps in my passport. 1 leaving Holland, one entering the UK and then the last one entering Iceland. Fall weather continues here. There was some frost last night early and then this morning it was gone. Still hooking up with some long lost friends through Facebook.
October 31. 2009
Happy Halloween
Well another month has flown by. Things have quieted down at work a little so that means I can do a little touring again. Oct 14th I headed off to London and Amsterdam for a long weekend. It was Fall Break at the school. Then a week later, or last weekend I headed off to Copenhagen and Malm÷ Sweden with Gu­mundur and Ingibj÷rg ( My landlords). Very nice city, small and friendly. Weather was cloudy but quite mild. So much to write about but where do I start? Oh well I will have to think about it a little and then sit down and write.
October 7, 2009
Well the Prime Minister has said sorry to the nation. I would say it is about time. Not that she had that much to do with the situation but it is the thought that counts. It has been a year since the crash and still not much has been done. The government is so concerned about Icesave and nothing else is done. Well the cut backs have started and it is funny that they have started even though NONE of the expansion Vikings are yet behind bars. Typical, the regular citizens pay and the criminals still enjoy themselves. Most of them are not even in the country. Last week there was a raid on an Accounting firm to see if there was any proof of foul play. Heck it has been a whole year, those documents were shredded a year ago.
Enough complaining, winter has arrived. Snow on the ground and freezing weather. It is nice and bright though. You can't have everything. We are holding Canadian Thanksgiving this weekend. Should be a good evening. Some new faces and some faces I haven't seen for awhile.
September 30, 2009
Well the Film Festival is over for another year. Kind of filmed out, 13 films in 9 days. Well a couple times it was a number of short films but I got 13 tickets in total. Next main event is Canadian Thanksgiving. I was very lazy last weekend, other than a couple movies I did not do much of anything. First 2 days in a row off since I think April sometime. Not much booked for October except Thanksgiving and then a couple trips abroad.
September 23, 2009
Happy Birthday Svein!!
Well I have been busy. I thought with no University I would have lots of time to write things here and do other things that I have put off the last couple years. I have not stopped learning though. I have attended a few courses at the University of Iceland, Continuing Education Dept. This week I am immersed in the Reykjavik International Film Festival. www.riff.is Some pretty strange movies but there are some very good ones as well.
August 27, 2009
Still finding cousins, Well I have known Linda a long time and it is great to see that she is in Islendingabˇk, Signř I just found out about at she actually goes to the school I work at. Actually so does Gar­ar. Gu­mundur went to school here and Ë­inn taught part time here. Yep Iceland is a small country.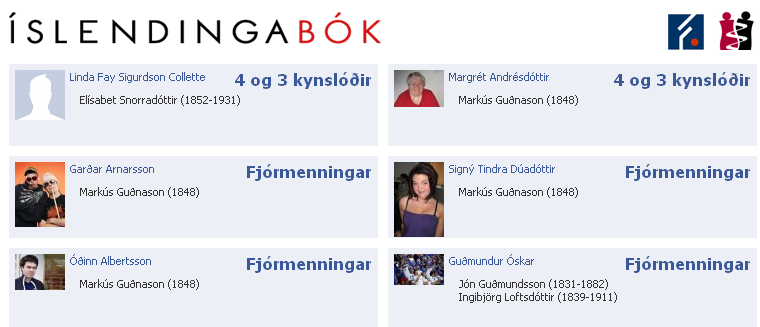 I am not sure if I will be able to survive this first week of school.
August 19,2009
Back at the grind. It has not been too busy but that will change soon. There is some meetings and the new students arrive on Friday. School starts officially in Monday the 24th. I am picking up the Snorri Plus group early tomorrow morning. Then we are having supper together on Friday night and I am taking them on the Golden Circle on Sunday, I toured with a very nice couple from Ohio last weekend, they were long days but they enjoyed it and I was pleased with the excursions. I am getting a little tired of the negative news here in Iceland. First time there has been a reduction in the population since 1889. Icesave dahhhhhh, I do not think Iceland will ever finish paying off that mess.
August 10, 2009
What a summer. 4 circle trips in Iceland, a quick trip to North America. Back at work and now I need a rest. Graduated, spent time with the family, the list goes on and on. It will be in the book.
June 22, 2009
Well it has been a busy couple weeks. Completed two circle tours and now back at my regular job. Graduated from the University of Iceland with my Teaching Certificate on Saturday.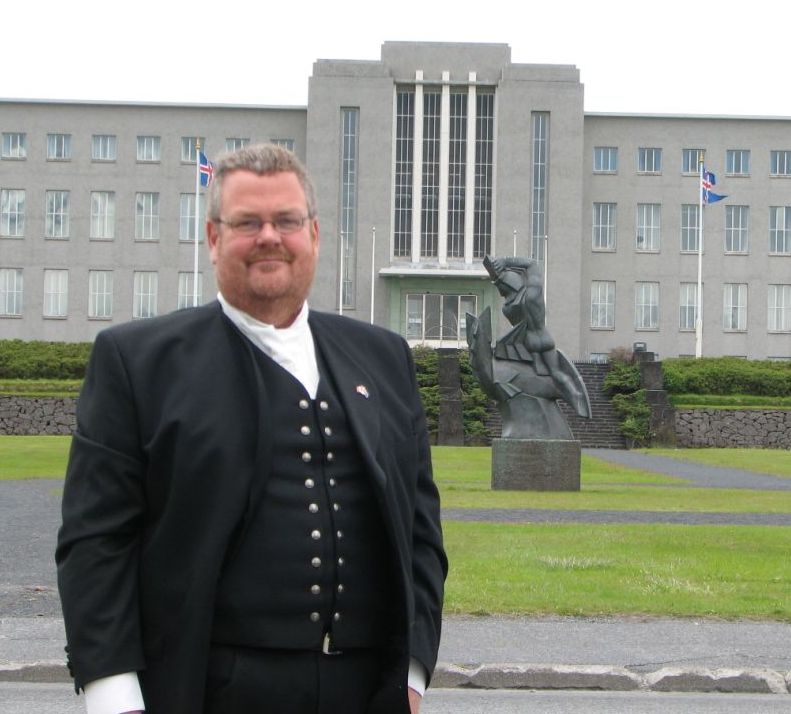 May 29, 2009
Things are winding down at MH. Graduation was last Saturday. Nice ceremony. I did a presentation to the teachers on Tuesday regarding Open Source options in IT. I think it went well. It was my final project in my Studying and Teaching on the Internet Course. My final course that I am taking for my Teaching Certificate. I will be graduating on June 20th unless I really screwed up somewhere in the course. Teachers and staff of MH went on the annual Spring trip on Wednesday. We went out to Reykjanes and the weather was unbelievable.
May 21, 2009
Still finding more cousins now though ═slendingabˇk and Facebook. According to this I am not related to my brothers so it is not perfect but interesting all the same.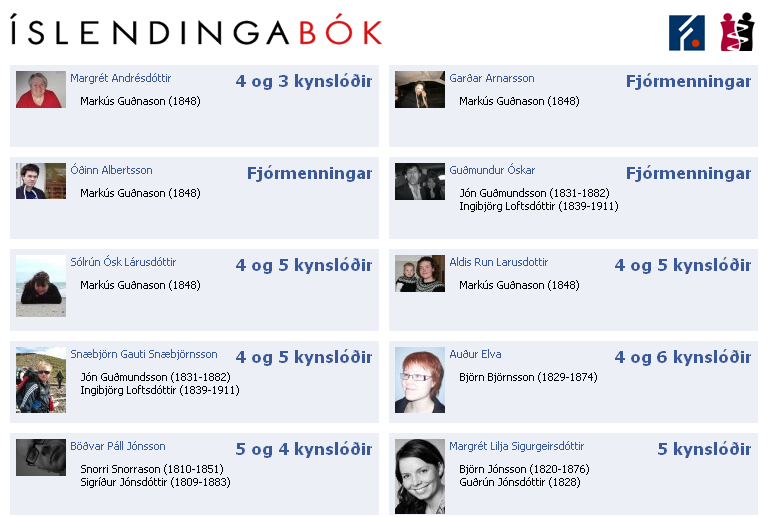 May 19, 2009
Well summer is here. Wore shorts to work 2 days in a row. I would not call it a heat wave but it is very nice weather. I am not the only one wearing shorts, some still find it too cool for shorts. Went on a trip to Vatnaj÷kull with a group from Bangkok. Awesome weather all weekend, a little windy and cool by the glacier though.
May 13, 2009
Well another school year is about to end. I thought I might be going on a circle tour today but that did not happen. In some ways I am glad as I have so much to do yet before summer holidays. I guess I should not say holidays but maybe summer season. I have quite a bit booked for the summer, tours with visitors and family. Busy busy.
April 16, 2009
Keeping busy as usual. The days are getting longer and the trips are increasing. I have been mixing business with pleasure. Visiting places I do not get to very often or have never been before. Below is a good example. Glanni the Falls is in Borgarfj÷r­ur, just off the #1 Highway. I have never taken the time to stop before but it s worth it. I also went to ═safj÷r­ur for my cousin's confirmation. It was still very much winter there but had a great time none the less. Looking forward to my next trip, to Gimli for the INL Convention at the end of the month.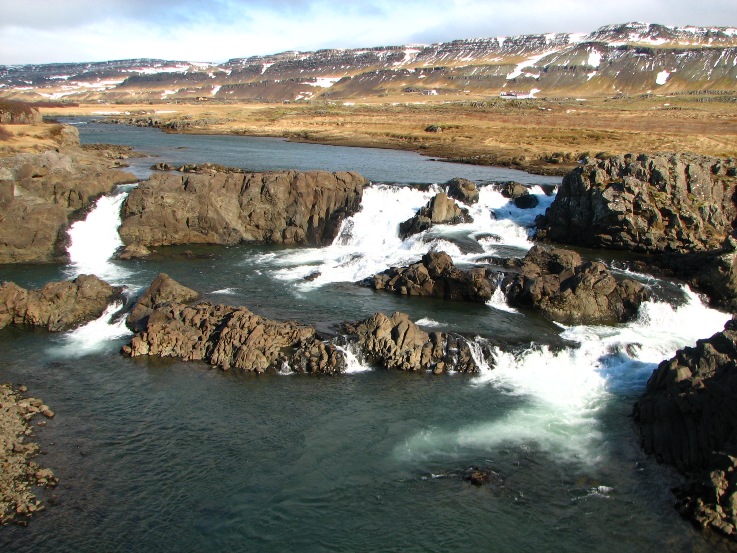 Glanni
Check out this video. (turn on sound)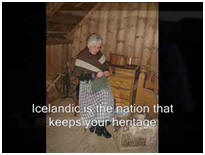 http://www.youtube.com/watch?v=-6kWrBJT4J0
March 10, 2009
Weeks are flying by again. So much to do and no time to do it. I have booked some more dates for guiding. I thought I would have nothing to do over Easter but now I will not have much free time at all. I will be heading to Isafj÷r­ur for a confirmation ceremony. My cousin Lßra Margret is going to be confirmed Maundy (Holy) Thursday, April 9. Wow less than a month away. Busy keeping in touch with the family with Skype. Still very cold in Manitoba. I was driving for the Tour Guide School on Saturday. The wind was cold but otherwise a beautiful day.
March 2, 2009
Well the travel bug is biting but I think I have to be like a normal Icelander and travel with in the country. Icelandair and Iceland Express have been offering some very good deals. Yes the flights are cheap but it is all the other costs that add up. I have a cousin that has tracked me down, she lives on the East Coast. There is a number of places and people I should see here in Iceland so I think that will be the extent of my travels this Easter. Who knows? I had another enjoyable day with the Tourist Guide School on Saturday. We explored Reykjanes.
February 19, 2009
Well this month is flying by fast. Even doing a little driving again. It is good to be behind the wheel once in awhile. Looking forward to a busy summer and especially looking forward to having friends and family visit. Still not sure if I can make it to Canada this summer, that is the plan though.
February 5, 2009
Well the political situation changes daily here in Iceland. Now the election will be April 25. We have a new Prime Minister, well for a couple months anyways. Things are slowing down a little at work. Starting to organize the summer, should be a busy and interesting summer. The weather here now is just like Manitoba winter weather. Frosty but bright and no wind. Busy working in a course I am taking at the University of Iceland. Studying and teaching on the internet. Check out my wordpress site. http://skrif.hi.is/klb2/
January 23, 2009
Well the protests in Iceland have claimed a victim. Well actually a few. There were a couple policemen hurt badly a couple nights ago when cement blocks were thrown at them. Today the Prime Minister called an election for May 9. I feel it had to come to that and maybe the sooner the better. He has been diagnosed with a tumor and is stepping down as leader of the Independence Party. I wish some other politicians and bureaucrats would stand up and do the same. Sure the PM is one of the main people that got Iceland into the economical mess but he is not the only one. I get to vote for the first time here in Iceland. Well I have voted for civic elections and political party elections but this is the first time for Al■ing. Not sure who I will vote for though, now I have to start thinking about that.
January 11, 2009
Happy New Year everyone. It has been a busy Holiday Season for me. I received my Christmas present early from the Icelandic Department of Justice. Yep I am officially an Icelander, as of Dec. 17, 2008. I am what they call a dual citizen now, I like Iceland but I would have not given up my Canadian citizenship. This was the case until about 5 years ago. I headed for London December 21 and stayed nights in London. I visited Camden Market for the first time and also attended the play, Billy Elliot. They were both great, especially the play or musical. From there I headed to Madrid. It is an awesome city. I met up with a friend and we travelled together to Malaga, Faro and Lisbon. We were in Lisbon for New Years. Another great city. I returned to Iceland January 2 and straight back to work. There is always lots to do at the start of each term. I am also enrolled in a few courses at the University of Iceland, I hope to be completing my Teaching Certificate course this spring.
December 19, 2008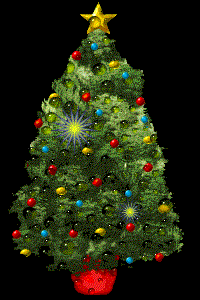 Well Christmas is almost upon us. Graduation is tomorrow so I have to help with that. My cousin I­unn is one of the students graduating. I haven't started packing yet but must start tonight. I feel a little like I am skipping Christmas this year but at the same time it will be very interesting to see new things especially at this time of the year. I think everything is pretty well booked for my trip.
December 6, 2008
Well the trip to Montreal was great. It was a little cold, the wind was bitter so we keep inside most. Party hardy though.
November 14, 2008
Well the Grey Cup is fast approaching. It will not be a cheap trip especially with the Icelandic Kronur so poor. Oh well, it is a chance to see the family and I will just buy less than I would have normally. I will keep you all posted. Still do not know who will be playing. It will not be Winnipeg.

October 31, 2008
I am still in Iceland even though things are getting worse. I am still waiting for my Citizenship, like I tell people I will also be getting a bill to pay my share of the debt Iceland is getting into in this financial crisis. I am still putting in time at the University of Iceland, should be working harder I guess but that's life. Still finding relatives here and there. They pop up in the weirdest places, like the office next to me. I found a cousin. Her great grandmother was a sister of my great grandfather. Small world. Attended a party last night at the Blue Lagoon. Great evening, kind of foggy in the lagoon though. Sometimes it felt like I was all alone. The walk in and out of the area was also very memorable. The lava had some frost on it and it sparkled from the lights just like diamonds. I did not know too many there but still managed to have a great time. Awesome food, Cuban music and dance. Too much wine, you know the rest.
October 8, 2008
Look Out Iceland. it is not just the recession that you have to look out for. My information has been added to Islendingabok and there is some interesting information I have found. I found cousins here in MH and now I have even found a direct link to Jˇn Arason who was the last Catholic Bishop in Iceland. He was executed 1550.
| | | | | |
| --- | --- | --- | --- | --- |
| | Jˇn Arason | | Helga Sigur­ardˇttir | |
| | 1484 - 7. nˇvember 1550 | | 1485 - 1559 | |
| | |
| --- | --- |
| Bj÷rn Jˇnsson | 1506 - 1550 |
| Jˇn Bj÷rnsson | 1538 - 1613 |
| Gu­rÝ­ur Jˇnsdˇttir | 1580 - 1667 |
| Jˇn Torfason | 1615 - 1661 |
| Ingibj÷rg Jˇnsdˇttir | 1650 |
| Eggert SŠmundsson | 1695 - 1781 |
| MargrÚt Eggertsdˇttir | 1736 - 1801 |
| ┴rni Jˇnsson | 1766 - 1814 |
| SigrÝ­ur ┴smundsdˇttir | 1812 - 1906 |
| MarÝa KristÝn Gu­mundsdˇttir | 1836 - 1922 |
| Tˇmas Bj÷rnsson | 1864 |
| Bj÷rn Sigur­ur L Bjornsson | 1901 - 1956 |
| Richard Lorne Tomas Bjornsson | 1935 - 2005 |
| Kent Lßrus Bj÷rnsson | 1961 |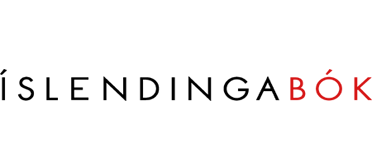 Sept 25, 2008
Things have not slowed down at all. I have been busy teaching, answering phones and running around helping people. I am busy booking my next trip, well there is one in between but it is all booked. The Icelandic kronur continues to fall. It is not good when your pay is in kronur. I guess it is good for people who are visiting Iceland though. AH more work.
Sept 16, 2008
Well things have been crazy around here. I did sneak off to Edmonton for a few days. Surprised my Mother and was warmly welcomed by everyone there. All she asked when I met her at the airport was " Are you here for the wedding?" I hooked up with an old friend, Danny from Calgary and we had a couple great days together. Went to a CFL game, Calgary was playing at Edmonton. Did some shopping and managed to rest as well. Back at Teachers College and have quite a bit of work to do there.
August 26, 2008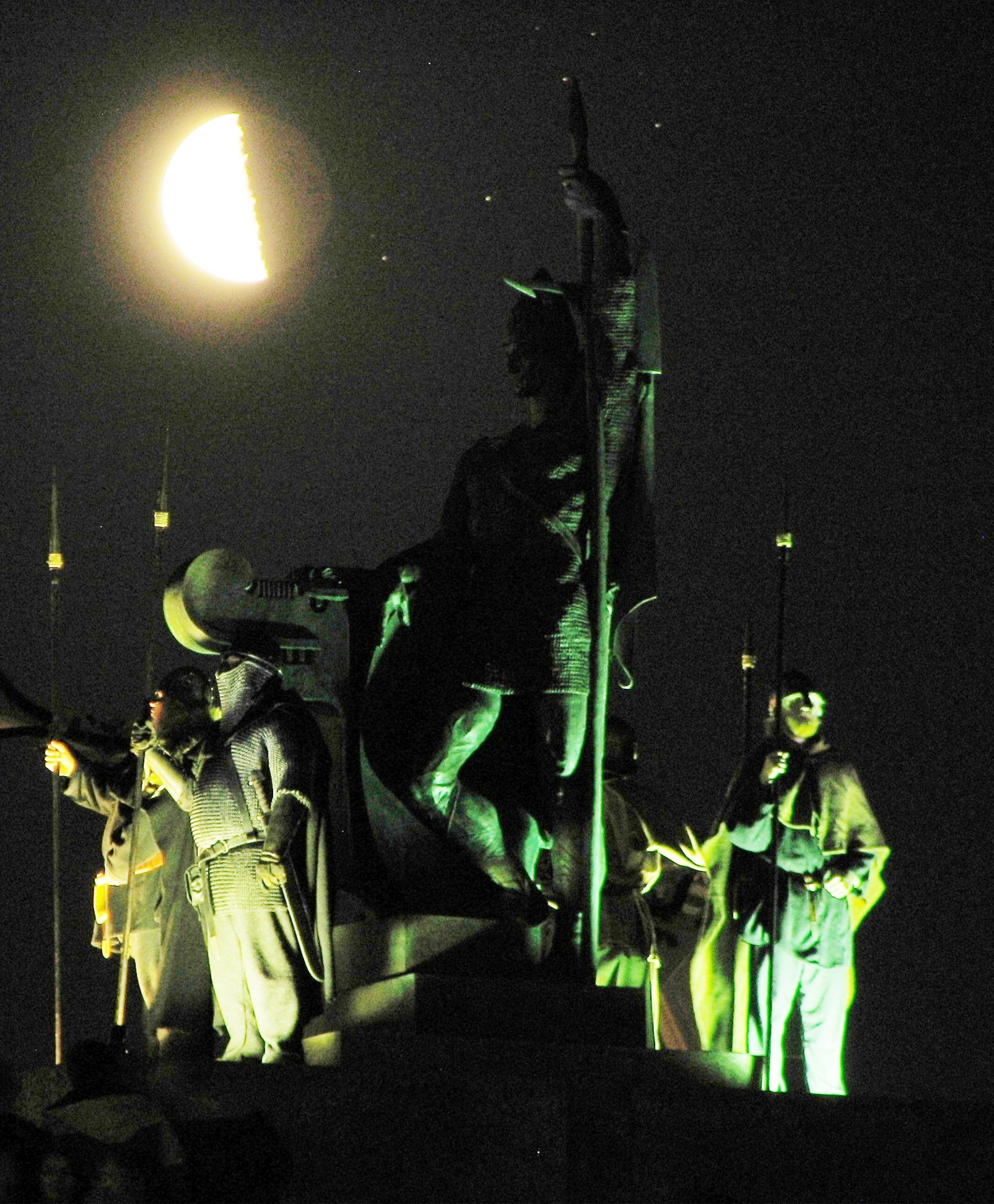 Menninganˇtt 2008
School has started again. Crazy as usual. Passwords, equipment and photocopying like crazy. Fall is definitely in the air, actually quite cold at times and the days are getting shorter, big-time. The Snorri Plus group is here and I did the Golden Circle with them on Sunday. Nice group of people. I am going to Akureyri for the weekend for a INL of Iceland event. So much more to write about, so little time.
August 15, 2008
Well the last month has been busy. Had a great tour with the Snorri group again this year. Great people to travel with. Then I snuck off to Ůorsm÷rk for a couple days with a photographer from Canada. He liked it I think and then the big tour started for me. 47 people in a 53 seat bus, ages from 6 to 70. All people from home (Manitoba) so it was great. Lots of luggage but a great experience and saw somethings I had not seen for a while.
July 18, 2008
Well I had an unusually quiet week. I have been busy preparing for the next 3 weeks though. Takes a lot of time calling and emailing everyone. Took the plunge today, applied for Icelandic Citizenship. I will become a dual citizen, I think that is kind of cool. They say it takes 6 to 12 months so I am not expecting any miracles. I will be on the road for most of the next three weeks so that means not much computer connection if anyone needs to get a hold of me the best option is calling.
July 8, 2008
It has been awesome weather in Iceland. Sunny and warm. We actually need some rain. I was up on Langj÷kull a couple days ago and it was spectacular. Keeping busy, plans are progressing with the New Iceland Choir tour. I am really looking forward to it. I have a rough itinerary on the INL of Iceland website. http://www.inl.is/nikor.htm I finally made it to a Canada Day celebration here in Iceland. A couple Einherjar and I made a grand showing, we received many compliments on our attire.
Here we are with Canada┤s Ambassador to Iceland, Anna Blauveldt
July 1, 2008
Canada Day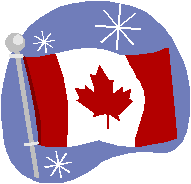 June 30,20008
I have been very poor at updating this page. Berlin and Cedynia Poland was excellent. Weather was good, it did get a little cold during the night and very hot during the day but the Viking activities were great. Canada Day tomorrow, I finally make it to a Canada Day celebration in Iceland. Still irregular work driving and guiding. I have had some very interesting groups but no long tours like I would prefer.
June 4, 2008
Well it has been a kind of up and down week. Killer long days sometimes and other days when there is little to do. Should not be complaining, an old person needs his rest. A couple days of guiding for cruise ships is coming up. Still preparing for Berlin, everything is pretty well booked and just have to get on the plane. Summer is here, weather wise. Warm and sunny days, hopefully it keeps up. A polar bear showed up in Skagafj÷r­ur, he was killed as they were worried that they would lose him. In Iceland where there is no place for him hide, except temporarily in the fog?? Oh well at least we keep them alive in Manitoba, heck just think of the tourists that would want to see him or they could have shipped him back to Greenland or something.
May 27, 2008
Well the summer pace is arriving. At the last minute I was offered to do the circle trip with the Tour Guide School. I took it and spent 6 days on a tour with some great people. This was the day after Mom and Diane returned home. It was great having them visit. Things are winding down at school but other activities are keeping me out of trouble. Last weekend I was also very busy driving bus. I am also preparing for my trip to Berlin, go and meet some vikings.
May 8, 2008
Well Mom is here visiting. I have been very busy with work and finishing a project for Kennarahßskoli. Exam tomorrow, ouch. Heading north on Saturday to do some exploring and hopefully find some relatives. Mom has been studying various books and been calling people.
April 23, 2008
Well someone has been very slow at updating his website. Swamped with work and as the days get longer there is less and less time to sleep. Just finished a tour of the south of Iceland with the Menntaskˇla Choir. Had a great time and the weather was also very good. I was the bus driver and assistant group leader. 3 very long days!! Summer is looking to be busy, some day tours with ship passengers, some other exciting projects also. First practice tonight for the new Viking Club of Reykjavik, Einherjar!! I said I will attend. Exam coming up in Teachers University. Mom and Diane are here next week.
March 31. 2008
Well another month ending. Beautiful weather this weekend, clear and cold. Still preparing for the summer, I am really looking forward to the youth choir coming in July. A nice easy circle trip of Iceland, it will be like a holiday for me. Last month of classes so I am sure it will pass by fast.
March 25, 2008
Well another Easter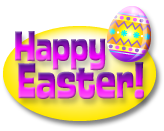 is over. I hope everyone had a nice one. I was Prague and Stockholm. The weather was not the greatest but both cities are very beautiful. I was able to see many interesting places. I toured the Pilsner Urquell Brewery in Plzen. This is where the first pilsner was established. Great tour and nice city. It was a little cold in Stockholm but I survived. Many things were also closed and very few people on the streets, because of the weather. A real contrast to my visit there in July.
March 6, 2008
Weather is not improving. Rain, snow and lots of wind. The days are getting much longer so that is a plus. Lost my great aunt last week. Flo was the sister of my grandfather. She has been in Betel in Gimli for many years, and has had a good life.
I attended the school play last night. It was very interesting. Meetings keep me busy, Touristguide Assoc, INL Iceland, Snorri Program etc. Today I had lunch with Ambassador and staff from the Canadian Embassy. School is also keeping me out of trouble. Newest endeavor is a Viking group, Einherjar!! I will keep you all posted about that.
February 21, 2008
Well things have been picking up. Lots to do and starting to have trouble finding time to do things. Have been doing some driving again. I have been teaching, attending classes at Teachers College and the list keeps on. Last week was Lagningadaga (Different Days) so teaching was not possible. I have to teach a few more classes to complete my practice teaching course. I will be finished early next week, just in time to attend some classes at Kenno (Teachers College). I am looking forward to my next trip at Easter, I am off to Prague and Stockholm. 4 + 2 days, will be a nice break.
Had some terrible news from Manitoba day before yesterday, Mary B, from Arborg (Aunty Mary) passed away. This was very sudden and my sympathies go out to the family. She will be missed greatly.
February 8, 2008
Well teaching class today. Icelandic politics. Should be fun. Here is the PowerPoint show I did. And another.
.February 4, 2008
Well yet another month flies by. Trying to keep up with my schoolwork. Luckily there has not been too much to do in the driving business. That will be changing soon I think. My summer keeps getting more and more interesting. A group coming to Iceland in June, the Snorri group in July and a youth choir in the end of July. A 12 day circle trip of Iceland. that will be a nice pace instead of the 5 or 6 day trip that most go on. It has been quite cold here for a couple weeks, OK it is not -40 like it has been in Manitoba but all the same it has been -15 and colder here which is similar I feel. Maybe I am getting used to the climate here finally.
January 16, 2008
Well another year older. I had a relatively quiet birthday yesterday. Got a few phone calls from the family in Canada. Work has been really crazy, lots of computers to set up and equipment to get to work.
January 7, 2008
Well another year. I hope everyone had a great Holiday Season. I did, first I ate too much here in Iceland at Christmas, then I ventured to Istanbul, Turkey which was fantastic. Then spent a couple nights in London for New Years festivities. Back at work and at Teachers College. I received my marks for last term. I got 8.5 for Almenn KennslufrŠ­i (Basic pedagogy). I am happy with that. I have to say that I will be going back to Istanbul, I liked it very much except for the carpet salesmen. London is London, I enjoyed it but was kind of disappointed. The Fireworks display was awesome and the Parade on Jan 1 was also very good but ater the fireworks the city was dead. 300,000 people downtown and everything was closed. Even the Tube was shut down, even though they had promised a free ride from 23:45 until 4:00. Everything was closed, some bars had private parties going on but for the most part everyone could just go home, walking all the way.
December 26, 2007
Well Christmas has come and gone. The ground is white and weather is mild so I can handle this weather. There is always a question of whether it will be a White Christmas or not. It has been raining so much that I kind of doubted the snow coming. Soon the days will be getting noticeably longer and the holiday season stress will just be a memory. Printing of exams went well at work, the Graduation ceremony was also great. I have been eating too much as usual at this time. I am off to Istanbul, Turkey tomorrow and then I will be in London for New Years. It should be a very interesting trip.

BESTU ËSKIR UM GLEđILEGA JËLAH┴T═đ
OG FARSĂLT KOMANDI ┴R
Seasons Greetings to all and hope everyone has a fantastic New Year
December 8, 2007
Well the days are getting very short. It is a nice clear day today but the sun didn't rise until noon and it set at 2:30. Everyone is getting into the Christmas spirit. Line ups at most of the stores. I did my exam yesterday for the Teachers┤ University. It went quite well except I did not have time to translate the written parts into Icelandic as I had wanted to. Oh well, English is going to have to do. Exams are 1/2 over at MH. They are going fine I think. No major problems arising. There is some snow on the ground but not much.
November 30, 2007
Well last day of classes. Exam rush is on. Christmas gather at Siggi Fish┤s tonight. My mother called at midnight last night. I have my Grey Cup ticket for next year in Montreal. Planning a year ahead, that is not very Icelandic. Very cold in Manitoba, -25c. We had a storm here, wind and rain but it stays mild.
November 27, 2007
Well into the last week of classes. Exams start next week. Saskatchewan beat Winnipeg in the Grey Cup, but it sounded like a good game. I was able to listen to it on the internet. I have bought myself a Christmas present already. I booked a flight to London and Istanbul. I leave in 1 month, 4 days in Istanbul and 2 days in London. I will be in London for New Years. Had a great tour of Al■ing, the Parliament here. Also got to tour H÷f­i, the building that Reagan and Gorbachev met in to end the cold war. Maybe they should invite Bush and Putin now. It is a great old building.
November 7, 2007
Well November is here. Winter is also here, cooling down and the days are getting very short. Meetings are taking more and more time. Starting to visit places with the Tourist guide group. Going to Al■ing on Friday. Toured Grand Hotel the other day, largest hotel in Iceland now. Very impressive.
October 29, 2007
Well Halloween is fast approaching. The snow is here already. Studying hard for my course at the teachers university. Did a little driving on the weekend. Have to get back into gear there. Otherwise not much to report. Life goes on and no trips planned so people are asking if I am sick.
October 16, 2007
Well back from Stavanger, Norway. Had a very relaxing visit there. It is a beautiful city and area in Norway. On my way back I was thinking, this makes 12 flights in less than 1 month, still have to figure out the kms. There is so much to do and no time to do it. I also got my car back, it was in for repairs. OUCH, needed lots of work but now it is like new again. Now I have to work to pay the bill, no more trips in the near future anyways.
October 10,2007
Well getting settled back into the grind. Off to Stavanger Norway tomorrow. Weather will be similar to Iceland but it will also be nice to explore a new place and country. I have updated the map below with China and Norway. Still many places to visit, just not enough time. Yoko Ono and Ringo Starr are in town, the Imagine Peace Tower was turned on last night at Vi­ey. I did not make it there but did watch it on TV. The Canadian Club of Iceland celebrated Thanksgiving, on the right day this year. We had some 60 people for supper, it was great having guests from Canada participating again this year.
October 5, 2007
Well things happen fast. I just got back from a trip to China. I traveled there with the HamrahlÝ­ Choir. I applied for my Visa on Monday Sept 17, booked my flight to China the same day and left early Tuesday Sept 18. Traveled through Frankfurt and on the Beijing. Also visited, Xingyan, Xi┤an, Wuhan and Qingdao. Awesome trip, tough schedule but everyone survived. Got back to Iceland on Wednesday October 3. Now it is time to get caught up on things.
Sept 6. 2007
Started my class at the Teachers University. www.khi.is It seems very interesting. There will be lots to do and most is done on the net, I am a little nervous about this. Oh well I will try and hopefully have some fun doing it, I am meeting lots of new and interesting people so that is great. I am also driving again, back in the drivers seat for Hˇpbilar. It seems like they always have lots to do. Things are slowing down a little at work which is just fine. It was a little too crazy last month.
August 28, 2007
Well time is flying by. School is in full swing, got back into the drivers seat again last weekend. This weekend is the last weekend for guiding cruise ship groups. Busy busy but life is good. Booked a trip to Stavanger Norway for mid October. Heck I was here for about 2 weeks before I decided it was time for another trip.
August 21, 2007
Well it has been a crazy month. Had a great time in Stockholm, spent 1 day in Iceland then on to Minneapolis with another group. H˙savÝkurkˇr and a few other special people. Lots of work and very short time, only 3 days in Winnipeg but a very enjoyable trip none the less. Started back at the school right away and have been swamped here. I have managed to do a few trips on weekends with ship guests and the Snorri Plus group. I went up on Langj÷kull for the first time and the weather and sights were great.
July 21, 2007
Well summer is flying by. The trip to USA and Canada with the Free Church of Hafnarfj÷r­ur was great. Nice having a few days off at the end as well. Returned to Iceland with my Mother, niece and nephew. He is still here and we are heading for Stockholm in a few days. I just returned from a trip with the Snorri Group, had a great time and got to some fantastic areas of Iceland. The highland road was horrible though but weather was great. We even went River Rafting. Well another trip to North America is coming up and then straight to work at MH. Oh well I guess summer is almost over.
June 7, 2007
The weather is still not improving, maybe summer will never come. I have been busy driving bus and getting things organized for my trip to the USA and Manitoba next week. I hope the weather will be better there than it has been also.
May 25, 2007
Winter continues in Iceland. I went with a group yesterday on the Golden Circle. It snowed in Ůingvellir and the wind was awful at Geysir and Gullfoss. Otherwise it was a great day. Things are fairly quiet at school now, Graduation is tomorrow, next week will just be some meetings and finishing up odds and ends that we did not have a chance to get done during the year.
May 22, 2007
Well Election Day in Manitoba, I wonder who will win. The election here in Iceland happened on ended in a coalition government. The Independence party SjßlfstŠ­isflokkurinn (the biggest) will join with the Social Democratic Alliance (Samfylkingin) Weather here has not been the greatest, it snowed day before yesterday and again yesterday. Iceland is quite a small country sometimes. I drove bus on Saturday for a Womens group from Seltjarnarnes, the organizer and her husband are going with me to the USA and Canada June 11.
May 18, 2007
Getting behind again at updating this page. Getting busy again. Exams are now over so things are slowing down in the school. I hosted a family from Winnipeg, we did some touring and had a great time in bright but cold weather. Interesting week, I was accepted to the Teachers University. I will start classes for my Teaching Certificate in August. Plans continue for the groups going to Canada this summer. The days are getting much longer and my sleeping is getting crazy.
May 7, 2007
Well I was home for 2 days and then took another trip. I went with 40 other tourist guides and we headed for the south coast of Iceland. Katla area, Katla is a famous volcano that they are expecting to erupt at anytime. The weather was not great on Saturday, rain/snow and windy but we did not let that stop us. We hiked around quite a bit and had a great day. Sunday was beautiful weather, we went up Myrdalsj÷kull (glacier) and made many other stops along the way to Reykjavik. Expecting some friends from Canada this weekend and I will be doing some touring with them but will be home each night. Exams are almost half done, it is already getting quieter around the school.
May 3, 2007
Now I am back from Canada. Yep, went there for a convention. http://inlofna.org/Conf2007/2007.html Icelandic National League of North America. It was a great trip, able to do the family thing as well. Hung out with some of the big guys, President of Iceland Olafur Ragnar Grimsson, Bjorgolfur Gudmundsson of Landsbanki, Senator Curtis Olafsson and many more. Attended a University of Alumni function, Winnipeg Chamber of Commerce breakfast and opening of a Landsbanki office in Winnipeg. Met many old friends and met many new people as well. Should write more but who has the time? Not leaving the country any more this month, so I should have time to write more soon.
April 20, 2007
Well made it back from Cuba safely. A little late though, the plane was some 10 hours delayed. Had a great time in Cuba. I will write a complete update about the trip later. Planned on taking it easy, thought I did but was still able to drive some 2500 km. Actually my friend Hamri did most of the driving but I was along for the ride. It has been quite crazy at work since I got back but yesterday, the first day of summer is a holiday so I went north to Husavik to meet with the group that I am guiding in late July. Good to be back on the ice cube ( Klakkana )
March 31, 2007
Well off to Cuba early tomorrow. Quick stop in Halifax for fuel. According to the weather reports it is very warm in Cuba. Will be nice to get into some hot weather. I will be out of contact (email and telephone) for my stay there. I will maybe get a chance to check my emails but not much more. I hope things can wait.
Have a great Easter everyone and keep looking for those Easter Eggs.
March 27, 2007
Well I have started packing. Still lots of things to do but I will get them done, Last night I went to choir practice, yep me :-)) I was helping the Northern Lights Choir (Nor­urljˇs) with the National Anthems of Canada and the USA. They did a very good job of singing both songs. I told them I could get the French version of Oh Canada just to make things a little more difficult, they passed on the offer. A couple weeks ago I applied for the position of Vice Principal of the school. I was told I needed a teaching certificate to be eligible for the position so now I am applying for that course at the Teachers University, I hope I will get the position next time maybe. Back to school I go, that is if I get accepted.
March 22. 2007
Well the days are getting longer and longer here in Iceland. That means that my sleeping is getting more crazy. I am wide awake when I should be going to sleep and I wake up many times during the night, thinking that I have slept enough. Oh well, this happens every year so I should not complain too much. I have pretty much booked up my summer, I will be guiding 9 days when ships come into to Reykjavik, I will be going to North America with 2 groups, choirs from Iceland. Driving and guiding a youth group, Snorri Program for 1 week in July. I am also looking forward to having family visit, My mother, niece Ashleigh and nephew Svein are visiting me in July. We need longer summers.
March 20, 2007
OK how many saw my mistake? Last time I put March 14, 2005 for the date. It is corrected now. Going back in time huh...?
Oh well we all make mistakes. Still quite busy, many meetings last week, including one at the Canadian Embassy. Plans are progressing for the trips to the USA and Canada this summer, even though we had to cancel a trip late next month because there was not enough participants. Please feel free to look at the trips that are planned on www.vesturheimur.com. Tax time in Iceland so I have to get all my papers together and head to my friend Jonas who has helped me so many times in the past, I have lost count. I spent the weekend driving, I went with a group from school to Borgarfj÷r­ur Friday and Saturday and then drove the Golden Circle with a group of Danish school children on Sunday. It was very windy and cold and the roads were very icy. That is one thing I do not miss about driving truck in Canada is the winter driving. I can handle driving once in awhile here but I like that it is optional. This week seems a little slower. I have made some plans for my visit to Cuba but am not planning much other than rest and relaxation.
March 14, 2007
Well another month is flying bye. I have been keeping busy. I had a special visitor here for a week. My niece sent me a project from school, Flat Morgan, also known as Cool Girl spent a week with me in Iceland. Here is a link to a power point presentation. Flat Morgan aka Cool Girl visits Iceland. It was great having her visit, wish I had a little more time and maybe a little better weather. I am finalizing things for my trip to Cuba early and Canada late next month.
March 5, 2007
Well I had a bout with the flu last week. Missed a couple days of work and still do not feel 100%. Paid for my flight to Cuba. Looking forward to the holiday. Keeping busy with other things in the meantime. Driving bus on the weekends, weather is not the greatest so I have not been exploring too much. Summer is pretty well booked already. Added an article I wrote for L÷gberg to my website. Seeing the other side of Iceland (click on the blue title to read).
February 20, 2007
Had a great time in Kent, Canterbury is very beautiful. The weather was great there also. Everything is still very green especially along the coast. Made it to the White Cliffs of Dover and also Deal and Sandwich. Most of my time was spent in Canterbury, mainly in the bars but I did do quite a bit of walking and even made it to a collectibles show, didn┤t buy anything though. We were able to sit outside during the day and enjoy the beautiful weather. Tough being back at work now though and almost 6 weeks until I go to Cuba. I will survive, I guess.
February 12, 2007
Well survived another busy weekend. Worked both days at the school and id some driving as well. This weekend Gu­mundur and I are taking off to London and Kent and going to be causing trouble there. Of course we will try to be good. The weather has been decent, not too cold.
February 5, 2007
Record cold temperatures in Winnipeg. -36c with windchill -46 OUCH... Do I miss it? Not too much. It is sunny though and it is a dry cold hehe. I got this off the weather page for Winnipeg Need I say more!!

I had a relatively quiet weekend. Worked on Saturday and then Gu­mundur and Ingibj÷rg invited me out for Ůoramatur (traditional food), as there was no Ůorablˇt to go to. We went to Fj÷rukrßin. The food was great, Gu­mundur complained it was not sour enough. I had everything including sour whale. Ate too much but survived. It was sure nice to sleep in on Sunday. We received a good amount of snow on the weekend and it is a little cold, a whopping -5c this morning.
February 3, 2007
Well work has not slowed down. Had a nice evening out last night with about 10 other Canadians. We met at Kaffi Paris and had a nice visit. There was people from Montreal, Ottawa and of course Manitoba. It was very funny to see how often our paths had crossed before. Sometimes only knowing mutual people or families but it still hits home how small the world really is. Other things have been happening as well. I booked a flight to Iceland for my nephew Svein and now my mother and niece Ashleigh are also coming to Iceland this summer. Am I that popular or is it Iceland that is attracting them? I have also been elected to the Board of Tourist Guide Association of Iceland. My spring and summer is pretty well booked already. I will keep everyone posted. I am off to Kent, England next weekend. It is a short trip but it will be great to get away also. Going out for Ůorrablˇt tonight, Cheers.
January 24, 2007
Wow time flies when you are having fun or just terribly busy. I had an excellent trip home to Canada. Saw many of my friends and family but not everyone. Work is keeping me very busy, the school is now 40% larger. It would be great if I got paid by the kilometer now as they sure add up going from one end of the school to the other. I have been working most weekends but last weekend I went to Reykholt in Borgarfj÷r­ur with the Tourist Guide Assoc. Had a very interesting weekend. Have to try to sit down and write more but at least people now see that I am still around.
HAPPY NEW YEAR ONE AND ALL
December 20, 2006
Well Christmas is almost upon us. Weather has taken a turn for the worse, raining and windy. It is very mild though so that is nice. I am heading to Canada on Friday. I know it will not be raining there. It has been crazy at school, we have started moving into the new addition. Still have to buy a few more presents.
December 1, 2006
Red Nose day, Unicef fundraiser..
Well last day of classes today. Exams start next week. It has been a krazy term, oh well we survived. Had a nice weekend last weekend, touring with a Chinese group. It was cold at Gullfoss but beatiful. Went with them in the Blue Lagoon on Sunday, fantastic weather. Cold but clear and the water was hot.
November 23, 2006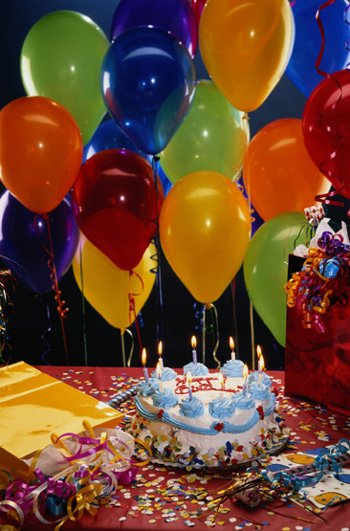 Happy Birthday Mom.
Winter is here in Iceland. I think record cold temperatures have been set for November and it will remain cold for awhile yet I think. There is lots of snow here and it is very wintery. It has been quiet in the driving department, it is nice to have some free time, but the weather has not meant that I can be out and exploring and taking pictures.
November 14, 2006
Well the weather is up and down. Had some wild weather here last week, the international airport was closed and all flights were delayed, fun fun. I have done some driving but it has slowed down a lot. I actually drove transit on Saturday evening for the first time since the summer. It was fine getting back into the drivers seat there. We have had some snow and cold weather but it has not lasted long. I have been helping a friend organize a cycling tour in Cuba. She left for Cuba today, it would have been great if I could have gone with her but I will have to wait until Easter. Next summer is still shaping up, hopefully everything will go as planned, if not I could always take some time off. Yep I can do that, maybe.....
November 3, 2006
Well winter weather is over. Now it is 10c and raining. Give me frost and clear days anytime over this. No I will survive. There is a little pre exam lull in work load with computers, this gives me a chance to catch up on other duties that I have been neglecting. I did a little driving last weekend, drove the Golden Circle for GUđMUNDUR JËNASSON EHF the weather was not the best, there was even snow in spots but still a nice tour.
October 26,2006
Well Civic Elections are over in Manitoba. Congratulations Tammy. Things have been very crazy here in Iceland. Iceland's first ever Canada Festival in Kopavogur. I was able to attend the opening and a few other events. The INL of Iceland had its annual meeting and it was a great event. Check out www.inl.is click on photos from the annual meeting. I have also been busy helping various people with tours all over. I am willing to go most anywhere people want me to go. It is definitely fall now, frosty mornings but it has been clear and sunny, huh just like fall in Canada. We held the Canadian Club annual Thanksgiving dinner in Hafnarfj÷r­ur on Oct 22nd, yep we were a couple weeks late but because I spent Thanksgiving in Barcelona it was delayed. It was a great success and I thank everyone for helping and attending.
October 2, 2006
Well things have not slowed down much. Driving and or guiding every weekend in September. I am going to Barcelona this weekend with a group from my school, MH. It should be a great time. Last weekend I was invited to Bessasta­ir, the home of the President of Iceland to meet the new Canadian Ambassador. So much more to say but so little time to write. My travel agenda is filling up quickly for the next number of months. Barcelona, Minneapolis and Manitoba at Christmas, London in February, Cuba in April and then Winnipeg again for the INL of North America Annual Convention. My summer is becoming pretty booked as well with trips in Iceland and North America.
Sept 8,2006
Yes I am very poor at adding to this Diary. I have been so busy with work and still finding a little time to travel. Last weekend for example I went with my landlord north over Sprengisand (my first time there) and then back over Kj÷ll. The weather was very good on Sunday, good for part of the trip on Saturday. The roads in the highland are not very good but it was still worth the visit. Things are slowing down a little at the school, it is always crazy when a new term starts, new teachers, new students and you know the rest.
August 13, 2006
Back at work at MH now. Been very busy with all different kinds of groups and driving. Been up Vatnaj÷kull, Myrdalsj÷kull twice, Drangey and the list goes on and on. Meet some very interesting people from all over the world. I still have a few more tours to do but for the most part, I am finished guiding for the summer.
July 22, 2006
Well finished a circle trip of Iceland with the Snorri Group. picking up my next group this afternoon and will be gone again until the 28th. Weather has been decent not as hot as in Canada, thank goodness.
July 14, 2006
Well it has been over a month and many things have been happening. In brief, I traveled with a group from Iceland to the USA and Manitoba. It was a great tour. I had a few days to myself after I got them back to Minneapolis and back to Iceland. I returned to Iceland June 30 and have been working steady since. Each day is different, guiding different day tours with ship visitors, driving bus to different places just outside of Reykjavik and even finding some time to drive transit bus a few times. Now tomorrow I head of for a circle trip around Iceland with a group of young Western Icelanders, the Snorri Program. It should be a great time.
June 9. 2006
OK OK, time to sit down and write. Completed a grand circle tour of Iceland with my mother and cousin. We drove 2800km and saw many things. Yes even places that I had never been before like Borgafj÷r­ur in the East and Flatey. It was great seeing friends and family, thanks to all. Had a great time, the weather could have been better but this is Iceland.
May 22, 2006
Been very poor at updating this. Between driving transit and working I have been swamped. My mother and cousin Janet arrived yesterday. Last week I was entertaining more family and friends. I had a great time with all of them and just wish I had more time to spend with them.
May 12, 2006
Still have not found the time to update my website. Things are going to start picking up. I have been driving transit quite a bit and it seems to be increasing. People are taking holidays and need time off. Yesterday attended a meeting of the Iceland Canada Chamber of Commerce. It was well attended and that is great to see the interest on the Iceland side. Not sure how many Icelandic companies were there but it was quite a few. Things are slowing down with the computers in the school and there are only 2 days left of exams.
April 28, 2006
Well I got heck today for not updating my photogallery. I have to do it soon. Try to do some this weekend hopefully. I am going Sunday with the Tourist Guide Assoc. to Kßrahnj˙ka. The big new hydro development in the north. www.karahnjukar.is Check out the website. Monday May 1 is a holiday so hopefully I will not be too lazy again this weekend to do a little more than sleep.
April 25, 2006
Well time flies. I have been back for almost a week and still have not had a chance to write. It was a fantastic trip to London and Moscow. Walked for many hours each day so now I have been taking it easy, too easy.... Say many of the sights and left a few until next time. I found Moscow a little dirty but winter was just ending and they were starting to clean up while I was there. London was all green already so that was a real contrast.
April 7, 2006
Well Easter Break is upon us. I have been busy, driving Transit and getting ready for my trek to London and Moscow. I will not be updating this for the next couple weeks. I will not be in mobile contact while I am in Russia either. 5Ç a minute to use the phone, no thanks. I will check my emails and will have to survive with that. In London I will have my phone on. Not much more to report, I was busy organizing a staff trip to Barcelona. We are going in October. There will be 100 or so going, should be a good time. Have a great Easter.
April 3, 2006
Cold but sunny weekend. Drove transit all weekend, didn┤t do much more than that. It was quite busy, spring is on its way so more people are out. The malls were packed and most passengers were either going to the mall or coming from there. Well another trip planned, the school teachers and staff are heading for Barcelona together in October. We booked now so we can all be together. Should be a good group.
March 31, 2006
Well the end to another month. It has been a busy one. I have been driving StrŠto lots and there is always lots to do at school. I received my Visa for Russia this week, look out Moscow. Everything is booked for the trip to London and Moscow. Looking forward to it and will have lots to write about when I get back. There is a girls hockey team here in Iceland from Winnipeg, it was on the news but there is little information about when and where they are playing so I have not gone to see them play. Einar and Rosalind are also here from Arborg, I spoke with them yesterday. They are very busy, Einar is teaching woodcarving. Working all weekend again, but at least I am keeping out of trouble.
March 22, 2006
Well winter is here again, clear but very frosty, -8 this morning. Keeping busy driving transit, late shift again last night. Did my taxes like a good citizen on the weekend. I will get a little refund. Applied for my visa to visit Russia yesterday, it will take 5 days to get it. I think everything is booked for the trip to London and Moscow at Easter.
March 17,2006
Well I finally broke down and bought a car in Iceland. I have been looking for sometime and finally found something that is small enough to be economical and yet big enough to take 4 passengers and still lots of room for luggage. It is not 4 wheel drive but still very good to drive and very comfortable. I though what the heck, I am in Europe so buy a European made car. Has been a good week, not too busy but steady. Still working on my Visa for Russia, I should be getting it soon. Plans are also progressing with the tour that I am guiding to Minneapolis, North Dakota and Manitoba.
March 13,2006
Well it has been a busy week. Besides my regular job, I guided a group of Norwegians on Saturday to Ůingvellir and Nesjavellir, then straight to driving transit. Drove bus , Saturday and Sunday afternoon and evening. It snowed like crazy here on the weekend. I was supposed to go on a glacier trip but the pre trip almost killed me so I passed on the actual trip. Looking at the photos I did miss a great trip but probably would not have survived.
March 7, 2006
Experienced my first earthquake yesterday. 4.5 on the Richter Scale. It was an interesting experience. It was centered at KrÝsuvÝk just south of Reykjavik. I have been keeping busy, booked a trip for my mother to Iceland in May. It will be great having her visit. It was clear and cold on the weekend but the rain has returned so it is milder now. Didn┤t have to drive this weekend, was on call though.
Feb 27, 2006
Back from Copenhagen. It was COLD there, kind of like Manitoba in the winter. We had cloudy weather except for yesterday. The wind was bitterly cold but the beer was great. We didn┤t get to see too much. Did travel to Roskilde on Saturday. Had a nice day there, very historic and beautiful spot. I have heard the the Festival of Nations went well. I wish I could have been in 2 places at the same time.
February 22, 2006
Off to Copenhagen tomorrow. Wet at windy weather here. Looks kind of cold in Denmark. Oh well more time inside. Picking up the last things for the Festival of Nations which is this Sunday. I got a nice box full of things from the Canadian Embassy. Made arrangements to meet up with Svavar Gestsson, Iceland┤s Ambassador in Denmark. Like I tell people he is one of the main reasons I am in Iceland now. Today staff and teachers were to be wearing something red, good reason to don my Team Canada Jersey.
February 20, 2006
Really getting behind at writing. Had a weekend off for a change. Not complaining, I enjoy the driving. Tuesday I made my return to Tourguide School. I am taking a course there for the next 4 weeks. My landlord Gu­mundur had a birthday on Friday, a whopping 65. Had a nice meal and visit with their family. A cousin of mine came from Edmonton late last week. I was able to show him around a little and he seems to be enjoying himself. People are still golfing and the days are getting much longer, YES. Getting ready to head to Copenhagen. Going there for the weekend, with Yoansy, Gu­mundur, Ingibj÷rg and their daughter and boyfriend. Hopefully it warms up a little there, it has been quite cold. We don't have too much planned. Check out some bars, restaurants. Not going to shop much I don't think. Today all the staff and teachers were to be dressed formally. I came in my tuxedo, lots of people commented about it.
February 11, 2006
Celebrated ١rrablˇt with my classmates from Tourguide School last night. Nice turnout, almost 20 of 33. The food was great but I didn┤t have any shark. Just not up for it, it is a mental thing. Everyone said it was great. Driving StrŠto again this weekend. Booked a trip to Moscow over Easter. Yep, I got a real deal on a flight to London and thought what the heck. Four days in Moscow. I was thinking of going to the INL Convention in Victoria BC but decided I didn┤t want to miss work and so on so hey Moscow is my second choice. The snow is all gone and the weather is quite decent. Didn┤t even need a jacket today.
February 7, 2006
Winter is back. I worked all weekend driving StrŠto (transit). There was many people golfing, beginning of February in Iceland and people are golfing. It was not the best weather, drizzle and foggy but it was mild. It really froze yesterday morning and there was snow on the ground this morning so there probably will be no one golfing today.
February 3, 2006
Time sure flies when you are having fun, or not!! Can't complain. Went to Skogar last weekend with a group from the Tourist Guide Association. Have a great time. There was a large number of my graduating class and an interesting mix of other tour guides. We really got a good tour of the museum and were treated royally by the staff of the hotel and museum. It rained all weekend but who cares. This week was a crazy one, lots of computer glitches. I am driving the transit bus this weekend so I will have to be a good boy all weekend. Busy contacting people in North Dakota and Manitoba regarding the upcoming tour. Now I am looking forward to it.
January 26, 2006
Well days are getting longer but I still don┤t have time to sit and write. Met with spokesmen for a group that I will be guiding in North America this summer. The meeting went well and I am looking forward to the trip. It will be a rather large group but there will be 2 guides and some of them have been there before. I was hoping to travel to Victoria in April right after Easter Break but now fares or kind of high and I would have to miss some work. I am expecting my mother and some other friends and family in May so I will wait and take sometime off to be with them.
January 20, 2006
Well my camera is dead, yep the champagne bath in Amsterdam did not agree with it. It would cost 30,000kr or about $600 to fix it so I think it is time to buy a new one. I have started looking and have my sights high. I would like to get a Canon SLR Digital. Will have to wait and see I guess. The snow is melting fast, it has rained and just been mild. There was so much snow it will take sometime yet for all of it to disappear.
January 17, 2006
Go figure, a little bit of frost and now I am homesick. Well this weather sure reminds me of Manitoba in the winter. Cold, lots of snow but bright. Check out Quentin Tarantino views on Iceland from the Conan O'Brien Show http://www.hi.is/~bjornbjo/conan-tarantino-iceland.wmv. Interesting Viewpoint. Looking at ways of getting to the INL of North America┤s Annual meeting in Victoria BC. The INL of Iceland is trying to organize a group trip there so please check out the INL website www.inl.is if you are at all interested.
January 16,2006
Well another birthday bites the dust. Won┤t say how old, too old. Snow keeps coming, it is cold enough that it keeps piling up. Well another step to becoming permanent here in Iceland, I voted for civic leadership on Saturday. I still can't vote in actual elections but I can vote for the leadership. I might be able to vote for civic elections, I have to check on that. I know I can't vote for Parliament until I become a citizen. I finally joined the Tourguide Association today, I have been meaning to do it for a long time, well since I graduated but now I am official.
January 13, 2006
A real dump of snow last might and early morning. Traffic was slow and people stuck everywhere. It is quite mild so the snow is really heavy as well. I don┤t remember when the last time there was this much snow in Reykjavik.
HAPPY NEW YEAR EVERYONE
January 9, 2006
I made it on the front page of the Morgunbla­i­┤s Fasteignabla­i­ (Real Estate News) today. Stein■ˇr wrote an article about me and put in my photo and a photo I took last winter of my summer home, the caboose. Many people complimented me today on the article. Enough bragging!! Oh well students keep streaming into the office needing assistance with computers. The election in Canada is only 2 weeks away, it sounds like it will be a close and interesting one. Iceland reached a population of 300,000 today, that is quite a milestone. The population was around the 250,000 for such a longtime. Many people leaving to work and live abroad, this has now changed and people like myself move here and add to the population. I find many people are moving back from long stays abroad as well.
January 8, 2006
Settling back into work. Many students have forgotten their computer passwords over the holidays so I have to do new ones for them. We have to set up some new computers in the next few days so that will keep me busy. I was really lazy yesterday, Saturday. I slept most of the day and when I was awake I was a couch potatoe. Today I have to update the INL of Iceland website and hopefully get a few emails written.
January 5, 2006
Had a fabulous trip to Amsterdam. The weather wasn┤t the greatest, actually quite similar to Iceland. It was nice to sleep in but that meant we did not get much touring done. New Years was quite the party, Dam Square had over 30,000 people. I couldn┤t believe people were shooting off fireworks from in the crowd. At midnight the champagne started flying. Got some on my camera, it is a little sticky still especially in the cold. Yoansy did lots of shopping, I bought a few things for myself but not much. The hotel was well located, everything in walking distance. Got back to Iceland on the 3rd, straight to work for a couple hours. It is tough getting up at 7 after sleeping in for the last 2 weeks.
November, December 2005
December 28, 2005
Well Christmas went great. I ate too much then slept too much but overall it was great. Spent Christmas Eve at Gu­mundur and Ingibj÷rg┤s daughter┤s. It was a nice family get together, the children were very excited. It was a white Christmas Eve then came the wind and the rain. It was good to sleep in on Christmas Day with the wind and rain howling outside. It snowed again Boxing Day but it did not last long. I am off to Amsterdam tomorrow morning. I think it will be very interesting to see Amsterdam in winter. I will be gone until Jan 3rd, 2006. I hope everyone has a great New Years Eve, I will.
December 23,2005
١rlaksmessa, I had skata at noon in Stokkseyri. It was good, very strong smell. I had to get out of my clothes and to shower when I got home. Last minute shopping I guess. Everything is nice and white for now, the forecast is for wind and rain.
Merry Christmas all, Gle­ileg Jˇl.
December 21, 2005
Just a few days to Christmas. I still have a few things to buy. Graduation is today and then I am on Christmas Holidays. I drove strŠto(transit bus) on Sunday, my first official shift from 5 PM to midnight. It went great but the weather was horrible, snow, rain and heavy winds. Not the best weather to be driving anything. Now I can brag, I am a professional tour guide, professional driver again and if I ever write these darn computer exams I will also be a Microsoft Professional. Just Mr. Professional!! It should be a fairly quiet Christmas, many people to visit. I will do my best. Some 3 to 4,000 Icelanders are spending Christmas on the Canary Isles, there is torrential rain there but it is mild. Attended a meeting of the Snorri Program at noon today. Things there are all under control.
December 17, 2005
Now Christmas is quickly approaching. The weather is not improving, it is getting colder. Exams are over so it is just clean up and such that needs to be done. I am still looking at cars or jeeps, there is very many used cars to choose from so it makes it more difficult to choose. I would like a bigger vehicle but with the price of gas here can I afford it? Gas went up to 108 ISK again which means $2 CAN. per litre. Since I mainly use the vehicle in town, to work and such do I heen a 4X4? There are a few days when the snow and ice is a problem but not many. Yes I still have some Christmas shopping to but I am not worried. I have started visiting a little and there are many more people I must visit over the holiday season.
December 12, 2005
Didn┤t have to do any driving of StrŠto on the weekend so it was a lazy weekend as usual. Went to a birthday part for a Cuban friend on Saturday night. Lots of good food but I was driving so I was a good boy on the drinking front. Lots of music and dancing, very different than usual Icelandic birthday party. There were some good shows on TV, now that I get 70 or so channels. Discovery, National Geographic and Travel Channel are my favorites. Still have some Christmas Shopping to do, not sure when I will get that done.
December 9,2005
Horrible weather continues. I can┤t believe how dark it is all day. You would think I would be used to it by now. Last night met with a number of Tourguides for an open house at Kaffi Reykjavik. There was a lecture about elves. It was nice to see former classmates and meet new people. Going to meet again in 2 weeks, close to Christmas, I hope I can attend. I am not scheduled to drive strŠto this weekend but will be on call.
December 7, 2005
Well went for another tour with the transit bus last night. Learning another route, #2 this time it goes from Hlemmur the Bus Depot to Vatnsenda way out in the boonies. Actually it is unbelievable how new housing is being built out there. Some nice homes and blocks coming up northeast of Kopavogur. Today there is a wicked storm developing, it is very windy and pouring rain.
December 6, 2005
Got the last of my Christmas presents bought to send to Canada last night. Bought a couple cards this morning to enclose in the parcel. Wrapped up the package and mailed. Weather is still just above freezing. It quit raining so I have to say it is very decent weather now. Won a party pack from Subway today, from one of the office supply companies. Yep Subway is all over and I am looking forward to chowing down some subs.
December 5, 2005
Still have not finished Christmas shopping. Have to do it today and mail the parcel. The weather has gotten milder, but of course it is raining now. I called Mom last night, everything fine in Gimli except she has a cold. The Icelandic Kronur is taking a tumble, it has gone down almost 5% in the last week or so. Sometimes I wish I was not paid in Kronur. Oh well that is life. The addition to the school is moving right along. They are working long hours and the foundation is taking shape. Exams are about half over.
December 4, 2005
A quiet weekend, we I was still feeling a little under the weather so it was nice to sleep in. I was hoping to do some more training on the strŠto on Sunday but I didn┤t. I went to Hverager­i instead and did some Christmas shopping. I have to mail the gifts today or tomorrow. There was quite a lot of snow in Hverager­i, eveything is nice and white.
December 1, 2005
Well another month bites the dust. Exams are in full swing here now, less people around so that means less computer problems and easier for me. I had fun yesterday, first I went for a course on driving a transit bus and then a road test. Later in the evening I met up with a former schoolmate from the Tour Guide School who drives StrŠto and went for another trip on a transit bus. Route 24. I did some driving and it went well. I am not sure how much driving I will have to do but it should be a great experience. I have been helping a little with preparing the exams but Yoansy seems to be handling it fine.
November 29, 2005
Winter election in Canada!! Went to Akranes on Saturday night to meet with the group I was with in July. They were very happy to see me and I had a very enjoyable visit with them. We looked at photos and had a nice snack of soup and salad. I was given a rose, a bottle of Christmas Red Wine and an Icelandic lesson. I was informed that I have been making a mistake in the way I say border in Icelandic. Instead of border I have been saying measuring unit. LandamŠli, landamŠri hey it is close. Well after correcting me they gave me a landa mŠli, a measuring tool for measuring the amount of alcohol after distilling. Now I have to start making landi, homebrew. I am from Fraserwood so maybe I should start. Quiet Sunday, weather was horrible so sat in front of the TV most of the time. Today is the last day of school, there is no classes tomorrow and exams start on Thursday. I have to help with the copying of the exams as it is Yoansy┤s first exam session. Stays mild but there is also a constant drizzle of rain/snow...chilly!!
November 25, 2005
Well like www.canoe.ca says the dice have rolled. What will happen to the Minority Liberal Government in Canada? Will it survive? Maybe people in Canada are more interested in who is going to win the Grey Cup!!! Bright but cold weather here. Sometimes I miss the cold and sometimes not. Mandarine oranges are out, I bought a case yesterday, about $10. CAD but well worth it. Really busy at work. This morning the graduating class had breakfast for the teachers and staff. Small group graduating this winter. The class also provided entertainment just before lunch, called "Dimmission". It was enjoyable. Meeting with group I was with in Canada and USA this past summer, photo night in Akranes. Should be fun. Then invited to a Birthday Party for a Cuban friend after that. Happy Birthday Jobany. Looking forward to the weekend.
November 23, 2005
Happy Birthday Mom!!!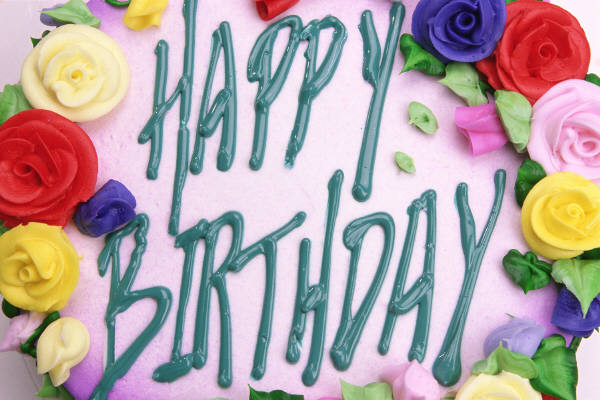 Wherever you are, British Columbia I guess, getting into the Grey Cup Spirit. Will not say your age even though you don┤t worry about it. Miserable weather in here. Windy and bitterly cold. The temperature is not too bad but you sure feel it. Less than a week of classes left so everyone in school is feeling the pressure. Exams start next week so it should be fun.

November 22, 2005

Milder weather but showers, some heavy ones. Sounds like an election coming up in Canada. Leadership elections of Civic Political Parties continues here. Kind of complicated I find, people run for a certain position. 1 seat, second seat and so on. You vote accordingly, who you want in the First Seat, second and so on. Oh well I will figure it out some year.

November 21, 2005

Very quiet weekend. Looking at getting a part-time job. Do something on the weekend instead of jusy being lazy. Did do some reading to prepare for my Microsoft Test. Still not sure when I will do it. Winter is over, well temperature wise. There was snow on the ground this morning but quite mild.

November 18, 2005

Mild and rain in the forecast. Another crazy day with technology. Must be the ghosts that haunt the school. Running around fixing problems all day. Battled with a students computer for a couple hours. Must have a damn virus or something, I am not the only one with a bug. Should be a quiet weekend, nothing much planned. Hopefully get rid of my cold.

November 17, 2005

Milder morning, icy patches. There is not much daylight especially when there is thick cloud overhead. Still a little under the weather with the sniffles. Sleeping good but feeling tired especially by the end of the day. In bed early at night.

November 16,2005

Another frosty morning. -6 on the way to work. Not as bad as Gimli, it was -12 and with the windchill -21. Changing Insurance companies, got to love competetion. I will save money and have better coverage. Filling out the forms was the standard questions. When it asked if I lived abroad I put down I was a Canadian and grew up there. He did not want to believe I was not an Icelandic citizen and questioned my name. Were you really christened Kent Lßrus Bj÷rnsson? I said of course. Today is Day of the Icelandic Language, the school gave each student and staff a book written by Ottar Sveinsson. He has written many books about daring rescues and searches. His latest book is about the sinking and resucue of the HMCS Skeena a Canadian Navy Ship that ran a ground in 1944 at Vi­ey, the island just north of Reykjavik. I will have to buy that one soon.

November 15,2005

Full moon, clear and frosty morning reminds me of Canada. The days are getting really short also. Go to work in the dark, head home in the dark. A co worker is heading to Cuba tomorrow, wish I was going too. Will have to wait until next year I guess. Foreigners continue to come to Iceland to find work. It was ususaly with fish and fish processing. Now many foreigners are working with construction, cleaning staff in hospitals and schools and the latest I heard was a story about 5 Polish bus drivers. They were hired to drive transit buses in Reykjavik and they don┤t know Icelandic or even English. Maybe I need a part-time job?

November 14,2005

Really wet weather. Had a fantastic weekend, group from Tour Guide School got together to look at photos chat. Fantastic food and company. Thanks Siggi Fish and Eyja. Miserable weather all weekend so I didn┤t do much. Was Aldis┤ birthday on Friday so I called her. Everyone fine at in Gimli.